Lincoln Pharmaceutical Walk In Interview 2023 : लिंकन फार्मास्यूटिकल लिमिटेड कंपनी, नई दिल्ली, एक उच्च गुणवत्ता वाले फार्मास्यूटिकल उत्पादों के निर्माण और प्रसारण में एक अग्रणी कंपनी है। हम 2023 में नए कर्मचारियों की आवश्यकता हैं, जो हमारे टीम का हिस्सा बनने के इच्छुक हैं। हम उन्नत करियर के अवसर, विकास के अवसर, और उत्तरदायित्व के अवसर प्रदान करते हैं। यदि आप एक सक्षम और प्रतिबद्ध व्यक्ति हैं और हमारे साथ काम करने के लिए तैयार हैं, तो कृपया हमारे साथ जुड़ें और हमें अपने विशेषज्ञता का आवेदन करें। हम आपके साथ एक सफल और साझेदारी भविष्य की ओर अग्रसर होने के लिए तैयार हैं।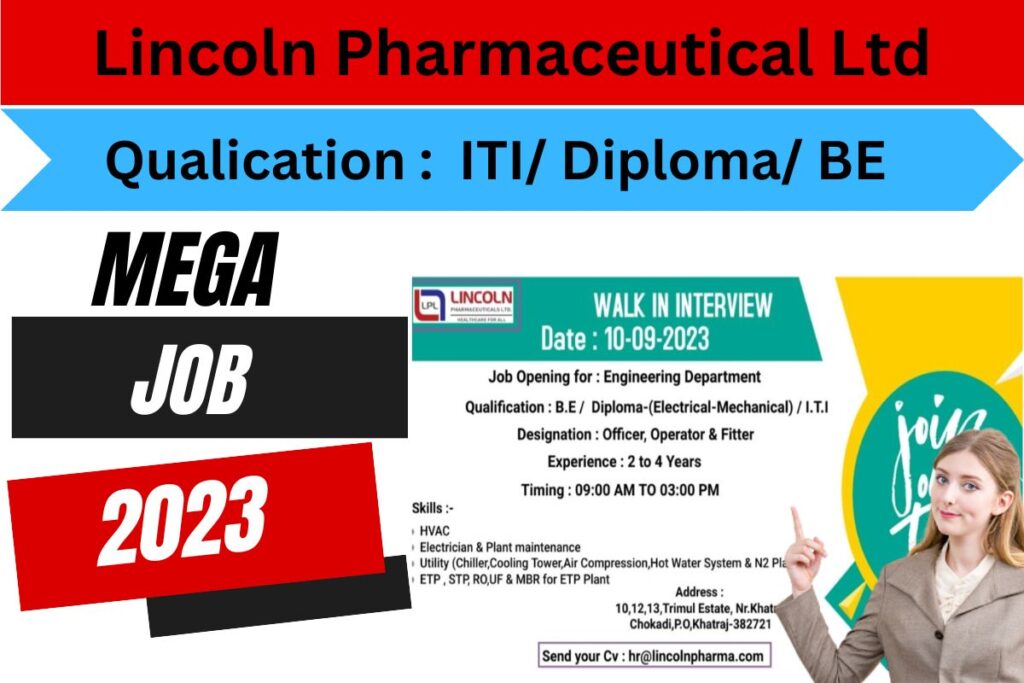 Details for Lincoln Pharmaceutical Walk In Interview 2023
| | |
| --- | --- |
| Company Name | Lincoln Pharmaceutical Ltd |
| Company Location | Gujarat |
| Job Profile | Assistant Operators ans fitter |
| Qualification | ITI/ Diploma/ BE Pass |
| Job Type | Full Time Job |
| Apply Mode | Online Apply |
Lincoln Pharmaceutical Walk In Interview 2023 Basic Details
Job Profile : Operator , Officer, Fitter.
Education Qualification
ITI in Fitter OR
Diploma/ BE in Mechanical, Electrical Engineering,etc. Trade Eligible.
Basic Skill Required
HVAC Electrician & Plant Maintenance
Utility ( Chiller, Cooling Tower, Air Compression, Hot Water System & N2 Plant .ETP, STP, RO, UF, & MBR for ETP Plant. )
Salary Package
As per your Qualification and Experience .
Experience : 2 to 4 Year's experience required.
Who can Eligible : All India candidates eligible.
Required Document
Resume & Biodata
Qualification Marksheet Original & Copy
Aadhar Card Original & Copy
Pan Card Original & copy
Bank Account Copy
4 Passport Size Photo
2nd Dose Vaccine Certificate
Minimum 5 Resume & 5 Color Photos
Selection Process for Lincoln Pharmaceutical Walk In Interview 2023
Apply On-line.
Attend the walk in Interview.
Written Test.
Basic Interview Hr.
Document Verification.
Lincoln Pharmaceutical Walk In Interview 2023
Date : 10 September 2023
Time : 09:00am to 03:00pm
Venue Address : 10,12, 13, Tribunal Estate, Nr. Khatraj Chokadi, P.O., Khatraj ( Gujarat )-382721
Official Notification : click here