Tata Motors NTTF Recruitment 2023 : नेचर टेक्निकल ट्रेनिंग फाउंडेशन (NTTF) कि दहेज आपका ये ट्रेनिंग होने वाला है| टाटा मोटर्स जैसी बड़ी कंपनी में अगर आपने आईटीआई किया है या तो फिर बारहवीं किया है और आप डिप्लोमा करना चाहते हैं तो आप NTTF के थ्रू डिप्लोमा कर सकते हैं
इसमें ITI वालों को 2 साल तक ट्रेनिंग पीरियड रहेगा जैसे की आपने ITI के DTD में ऐडमिशन डिप्लोमा में लेते हैं और आपको 2 साल में डिप्लोमा कंप्लीट हो जाता है और जो लोग दसवीं या बारहवीं करके डिप्लोमा में ऐडमिशन लेते हैं उन लोगो को 3 साल का डिप्लोमा रहता है तो जीस तरीके से आप गवर्नमेंट कॉलेज में डिप्लोमा करते हैं उसी तरह आपको टाटा मोटर्स जैसे कंपनी में डिप्लोमा करवाया जायेगा |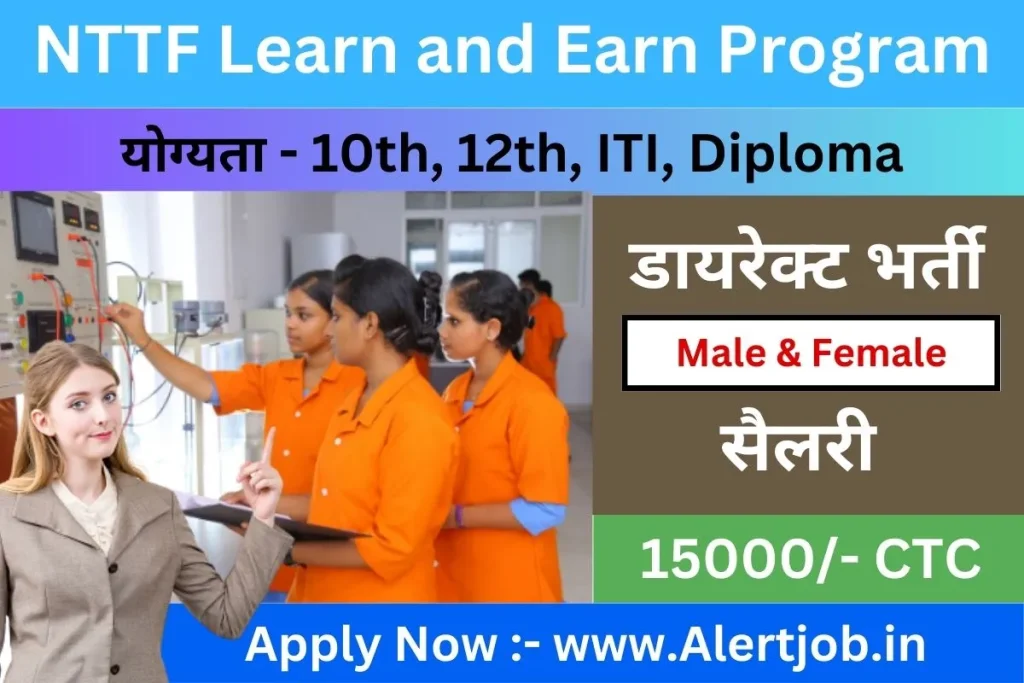 Tata Motor Recruitment FREE Certification after Training 2023
Diploma in MAachatronics Engineering : 12th Pass Candidates will recrive as certificate
Diploma in MAachatronics Engineering: ITI Pass Candidates will receive as Certificate
Certificate issued by NTTF
Education Scheme – Diploma In Machatronic Through NTTF. Fully Sponsored Program By TATA
ITI Students Will Undergo 2 Year's Diploma Course
12th Pass (science) Will Undergo 3 Years Diploma Program
on the Job training/ Learning Practical on the job.
Production
assembly
quality
maintenance
Interview Process
Personal technical interview at Quess Office
policy verification
medical
joining
Benefit
PPE
canting and transportation
uniform – 3 Sets pr year
insurance – GPA (7.5 LPA) & GMA (1.0 LPA)
Workmen Compensation
Leave – 18 Day Annually. Leave Encashment Every Year.
Ot Payment as Per Factories Act.
NTTF Required Eligibility
2 Years ITI Trade
mmv
fitter
Turner
Machinist
instrument Mechanic
Electrician
Electronics
Technician Mechatronnics
required qualification for Tata Motors NTTF Recruitment 2023
12th (science-PCM)only
ITI ( All Technical trade)
Nature Trainical Training Foundation ( NTTF)
ITI कैंडिडेट के लिए 2 साल का ट्रेनिंग रहेगा
12TH और साइंस कैंडिडेट के लिए 3 साल का ट्रेनिंग रहेगा
ट्रेनिंग के दौरान आपको ₹13,650 स्टाइपेंड मिलने वाला है
1 साल का आपका ट्रेनिंग पीरियड खत्म होने के बाद अगर आ nttf की एग्जाम देते हो और आपको 70% से उप आते हैं तो आपको कॉलर शिप 15000 मिलेगी
NAPS राष्ट्रीय प्रशिक्षुता संवर्धन कौशल
How do I contact NTTF?
Dilip Sir : 9875111920